Scratched skin, peeling new skin to earn money
The village working in coal tunneling in Phu Tan commune (Chau Thanh district, Hau Giang province ) stands out with its pyramid-shaped houses. The roofs of leaves were black with smoke, tinged with coal dust. Going from a distance, the smell of firewood mixed with the smell of stewed firewood creates a very characteristic scent. Newcomers are strange and hard to describe, but relatives who have worked for a long time do not feel nostalgic.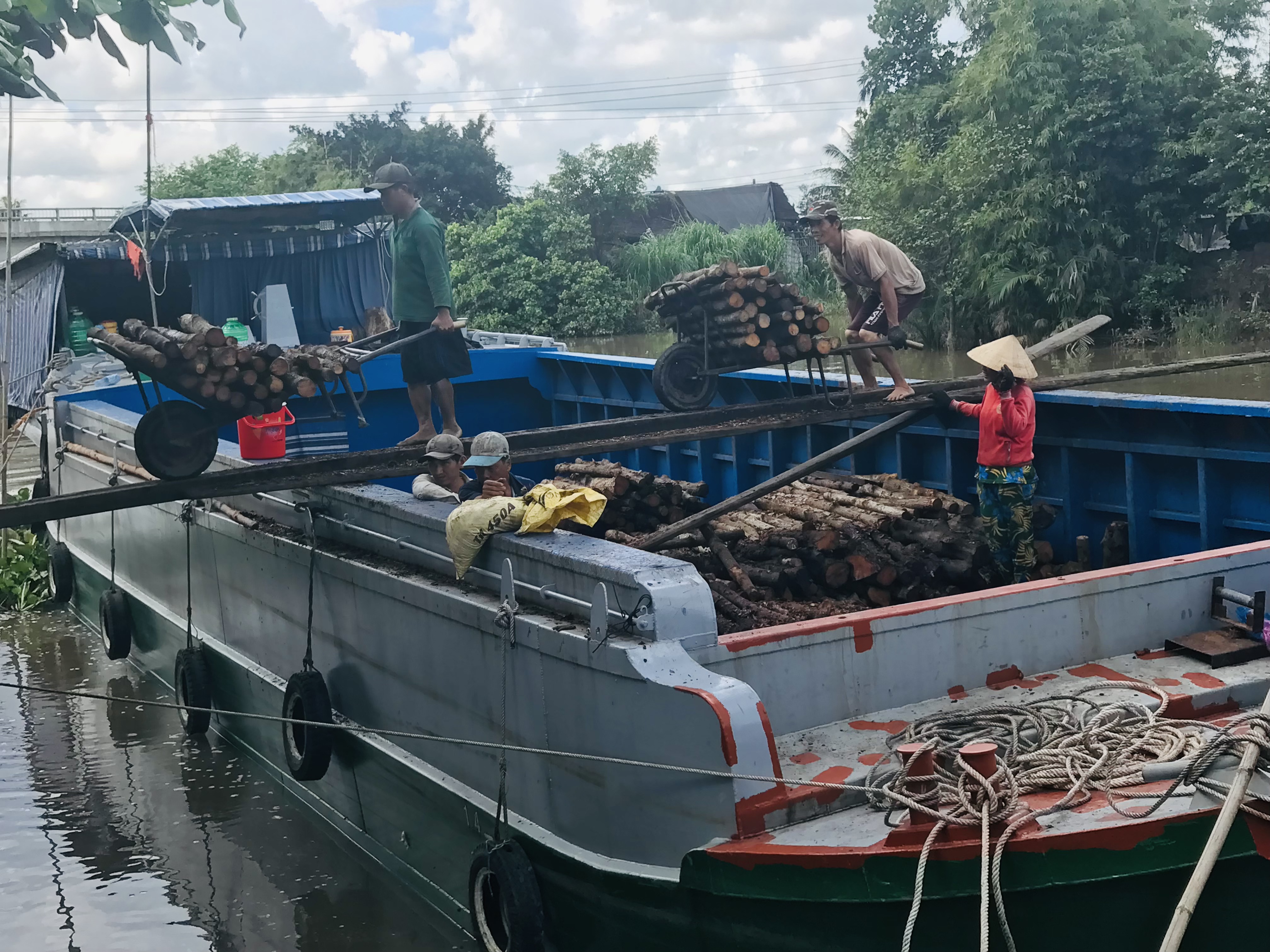 The traditional coal mining profession has created jobs for many local people who do not have a livelihood
For a long time, coal tunneling has become a traditional profession of many families in Phu Tan commune. Although coal-making is hard work and is not encouraged to develop because of certain impacts on the environment and health, many people here are still determined to stick to the profession because it is their 'bread and butter' for many decades . past century.
The burden of making a living makes people accept to get used to the dust and toil. Following in the footsteps of his father, Mr. Ngan (owner of Trieu Ngan coal furnace) shared: "According to the forebears, this coal kiln village has existed for nearly 50 years. In the past, relatives had little education, so if they did not follow this hereditary profession, they would not know what to do. Those who have land can build a kiln, and those who do not have a field or garden can work for the kiln owners so that they can raise their children.
Ngan just finished speaking, the barge loaded with firewood from Ca Mau province also slowly docked. Group of hired workers busy preparing luggage to gather fresh firewood ashore. Most of the workers here are over 30 years old, their skin is dark because of sunburn and long-term exposure to coal dust.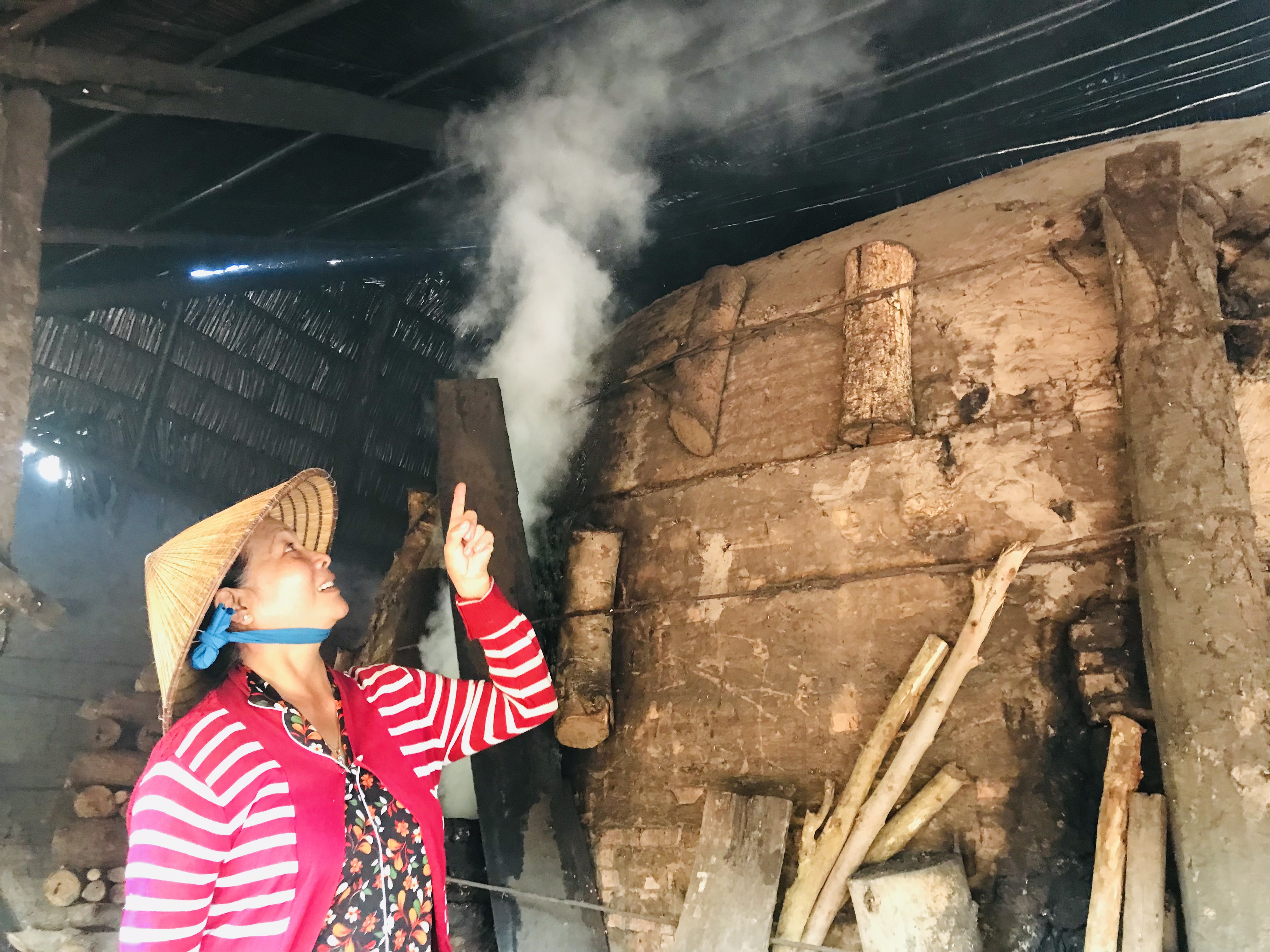 "Outstanding" in the neighborhood of the brazier are the smokey houses
Mr. Truong Van Huynh (56 years old) said that the whole team received a crown of 5 million to carry out the work of carrying firewood, the wages were divided equally per capita. At the end of a day, the average salary of each person is about 150,000 VND. Other jobs such as pounding bark, lighting a furnace fire, weighing coal, etc. are similarly paid.
A batch of coal takes about 2 months, so workers have to run continuously for other furnace owners to have enough daily meals and feed their children. "Having worked for a long time, but sometimes my body is still sluggish, I have to buy pain relievers and relieve pain to drink it. The work is very hard, the skin is scratched and peeled to earn money. We try our best to have the conditions to raise our children to study. All because of the hope that they will have a degree in the future so that they don't have to do hard work like me," Huynh confided.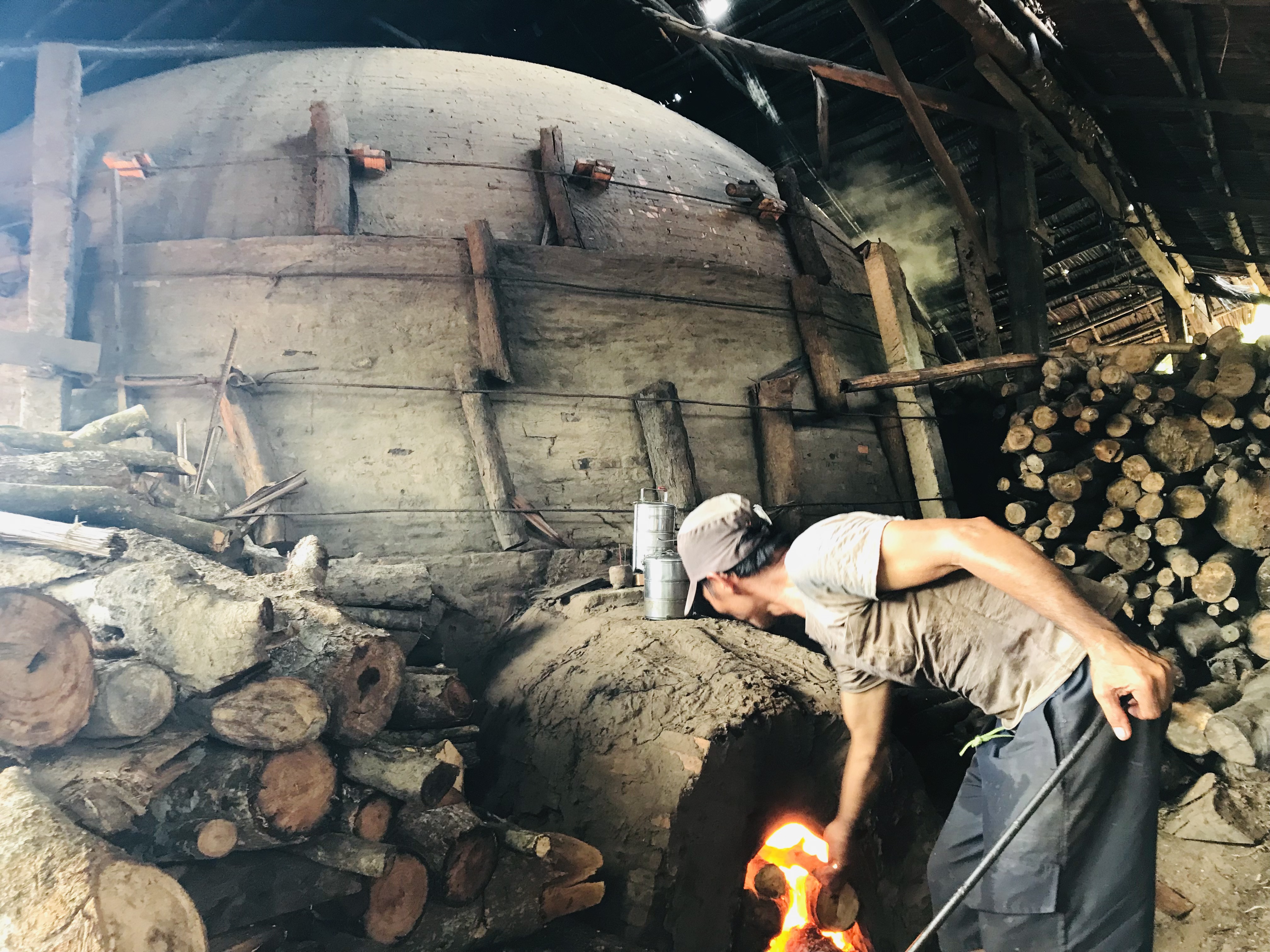 It took 2 months and went through many stages to complete a batch of coal
Accept trade-offs
Witnessing the people working in the coal furnace village, we can feel the hardships of this profession. After going through many stages, it is possible to produce a batch of finished coal. The first is to buy solid firewood for stewing. Previously, the kiln owner took advantage of some trees available in the garden such as longan wood, eucalyptus wood. However, raw materials are increasingly scarce, coal makers have to go to Ca Mau to buy mangrove firewood.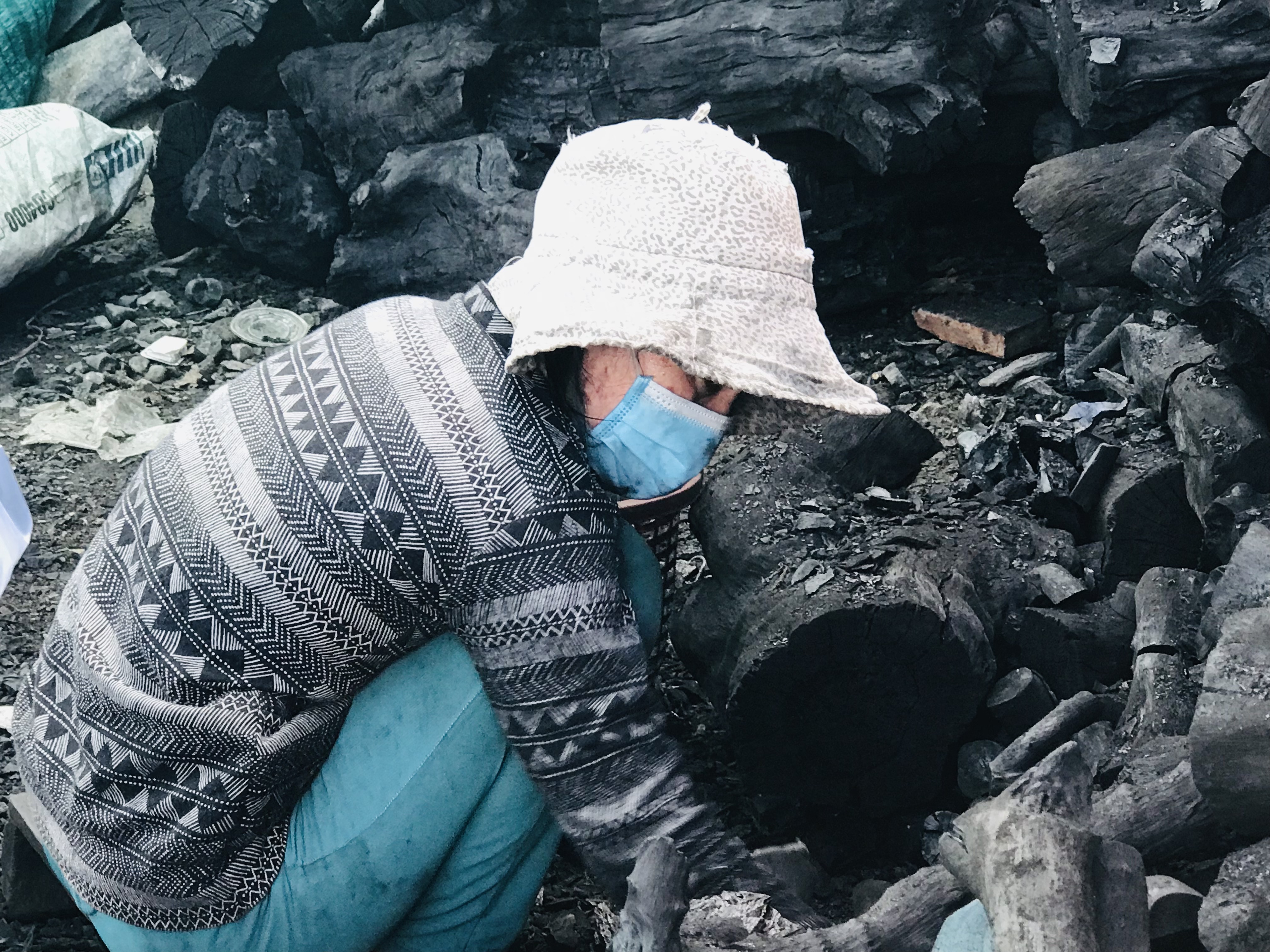 Working in a job requires a lot of exposure to smoke and dust from coal.
The firewood is then cut into pieces about 0.5m long, peeled off to quickly absorb the heat. Next is the stage of stacking firewood into the furnace, ensuring that the quality is properly stacked in each step. The most time consuming stage is the continuous fire of the furnace for 15-20 days. When the coal is ripe, the furnace will be closed, and it will have to wait another 7-10 days for the coal to cool before it can be sold.
After more than 10 years of working in the profession, Mr. Pham Van Tham (60 years old) said that the hardest part is separating the bark for each measure of firewood, the most important step is keeping the fire burning day and night. . Accordingly, the first time to light the flame for about 4-7 days, then let the fire smolder to ripen evenly. During 15-20 days, every 1.5 hours, the fire is lit once, so sleep never sleeps well. If there is a problem of turning off the furnace, the coal is broken into small pieces or burned to ash as a capital loss.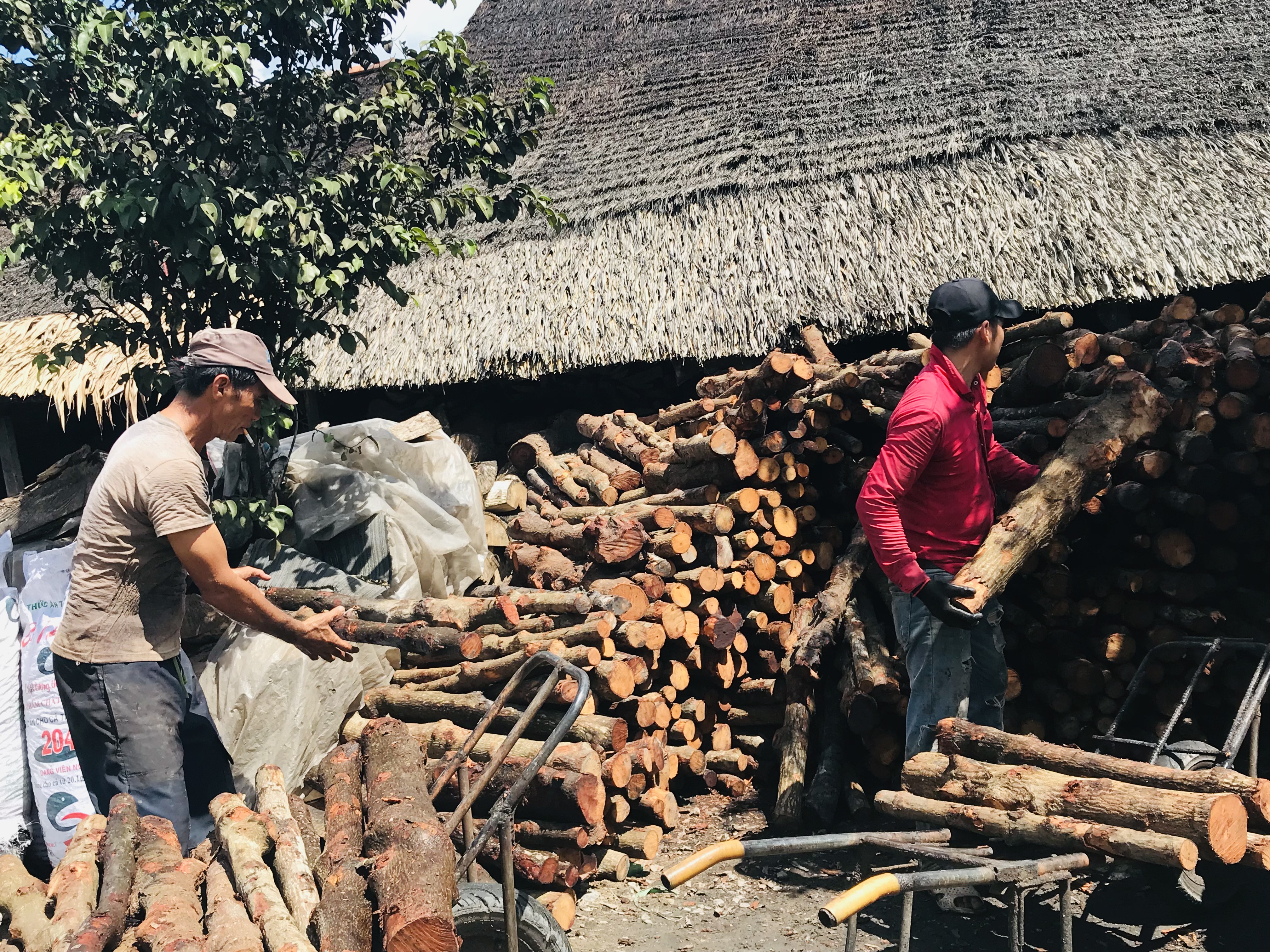 Have to run the number continuously for other coal furnace owners to make enough money to make a living
For Ms. Pham Thi Tuyen (69 years old), the most "boring" is when going into the oven to take out the cooked coal. In the suffocating dome of the tunnel, one had to breathe in the smoke and dust. "People who are not used to it are unbearable, coughing a lot. We also wear thick protective gear, tight masks but almost nothing. Coal dust keeps closing in the corners of the eyes, entering the nose is very uncomfortable, "said Tuyen.
If they win a batch of coal, deducting all costs, the furnace owners earn a profit of 10-12 million VND / 1 ton of coal. But this profession is also very precarious, unfortunately buying fresh firewood at a high price, the price of coal sold at a low price is considered a waste of effort for 2 long months. There are many people who rent land to build furnaces, because of the pressure of interest, they cannot anchor coal and wait for the price to rise, so they have to quit their jobs and go to other places to seek real money to find other opportunities.
Trade for your bright future
Which solution is reasonable and reasonable?
Mr. Nguyen Phuong Nam, Chairman of Phu Tan Commune People's Committee, said that at the time, the village had more than 600 coal furnaces operating at full capacity. Recently, the number of furnaces has tended to decrease but is still high (about 400 to 500 furnaces – PV). Because of the impact of coal smoke, the surrounding garden is greatly affected on productivity. This is also a big obstacle for the locality to strive to meet the criteria of building a new countryside for many years.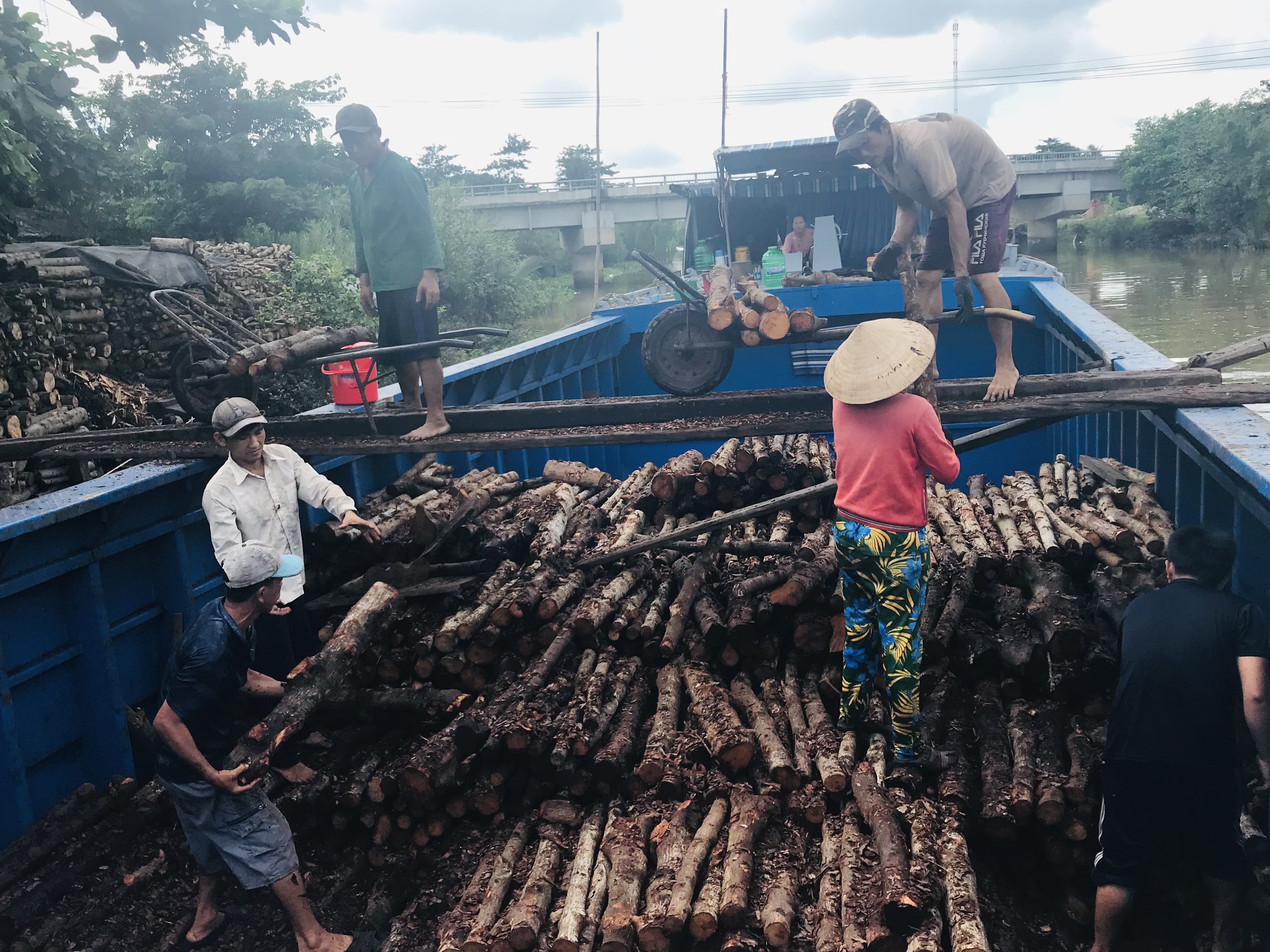 Work for hire regardless of sunny or rainy day
Recently, Hau Giang Department of Natural Resources and Environment and experts from Can Tho University have developed a project to monitor smoke and dust in coal kilns. The government also regularly encourages people not to build new furnaces. However, in addition to lobbying, the government has not found any satisfactory solution because it is in a difficult position. If the coal furnace works, people will have a livelihood , but it will increasingly affect the environment and health. If persuaded to change jobs, the locality does not have any suitable alternative jobs to introduce to a large number of people here.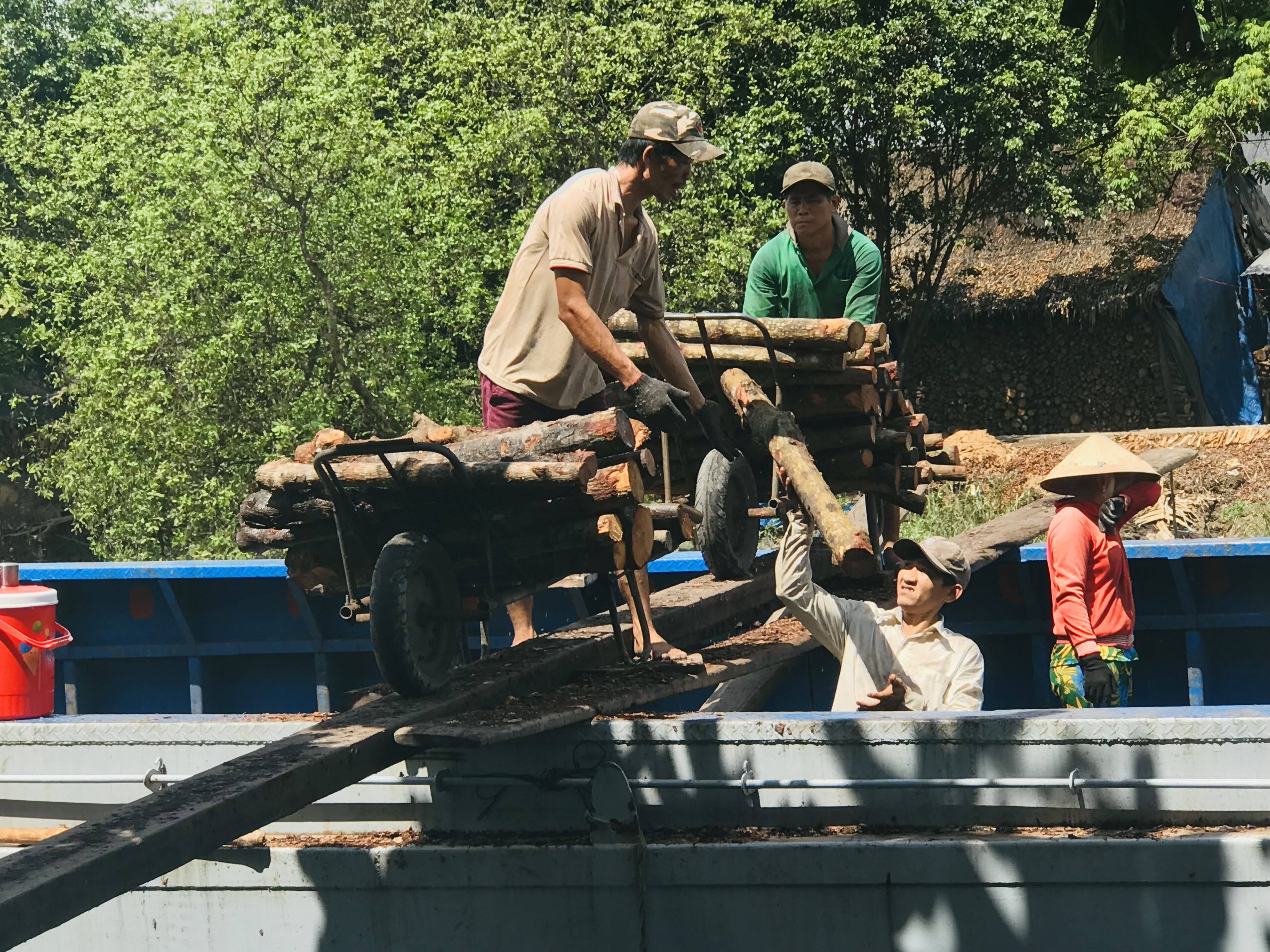 The coal mining profession is hard and strenuous
Leaving the coal-fired village, the firewood-carrying boats were still busy in and out of the riverside. Holding the received salary in hand, the group of workers smiled brightly on their faces covered with coal dust. Those two images made us both happy and worried. Glad that coal mining is still bustling, which means that people still have a livelihood and their children will continue to have the opportunity to go to school. Worried because behind the money that has to be exchanged with sweat and tears is a lot of potential risks about disease, health , and the environment in the future
Quoted from https://thanhnien.vn/nghe-ham-than-o-mien-tay-mat-lam-lem-da-den-nhem-nhung-co-vi-doi-con-1851476792.htm